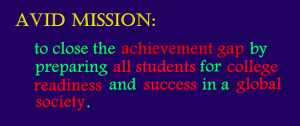 AVID Career Fair @ the Fall Arts Festival!
Our 7th and 8th grade students have been working on career research, delving into the details about over 30 different career options.  They looked at: job descriptions, responsibilities, education level, pay, job outlook, and more!  Students also created an informational flyer for their career to be handed out during the event.  
Clipboards, Sticky Notes, and Handshakes, OH MY!
Our AVID students are enjoying the various activities during our Intro to AVID unit.   Students created a personalized clipboard with a copy of their schedules, motivational quotes, and helpful hints to be successful in school.  Our 7th graders practiced introducing themselves to each other before introducing themselves to all of their teachers.  All students participated in a sticky note sort where they wrote down times when people write notes outside of the classroom.
First Day with the Tutors!
The students had the opportunity today (August 17th) to meet the AVID Tutors, get to know each other, and work on their AVID strategies!