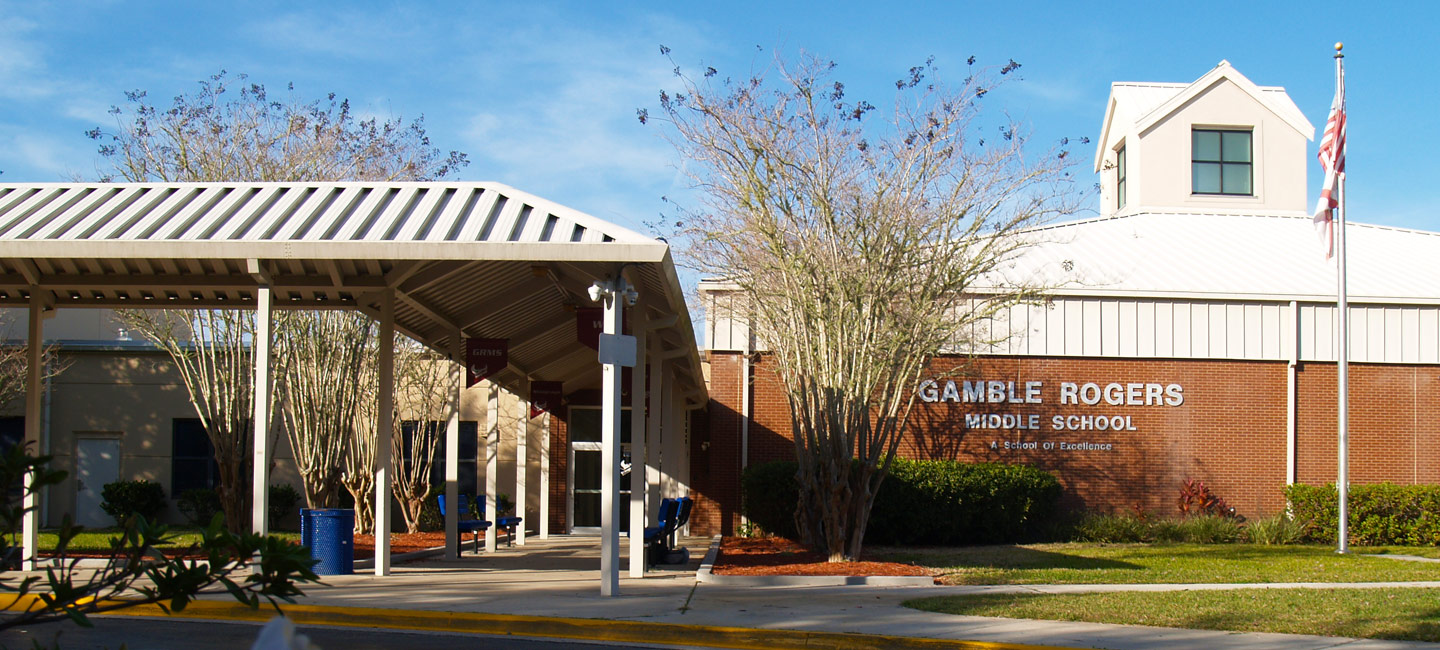 School Hours
7:10am – 1:50pm
Early Release Wednesday 12:50pm
We ask that you not drop students off at school prior to 7:00AM
Front Office Hours
7:00am – 3:00pm
Click here if you would like to sign-up to volunteer.
The dance will start right after school from 2:00-4:30pm. Dress to school as your favorite decade 60's, 70's 80's or 90's (dress code still enforced). Tickets are $5 and will be sold this week through A, B and C lunch. Drinks, pizza and candy will all be on sale for $1 each.
Ticket sales 8/19, 8/20, 8/21 & 8/22 
SOLD OUT!!!
Dress as your decade!
~ 6th graders 60's
~ 7th graders 70's
~ 8th graders 80's
   2022 Gamble Rogers Volleyball Schedule
Girls at 5:30 and Boys at 6:30

Tuesday, September 20th GRMS @ Sebastian
Thursday, September 22nd GRMS @ Swiss Point
Tuesday, September 27th GRMS vs Murray
Thursday, September 29th GRMS vs Pacetti Bay
Thursday, October 6th GRMS vs Landrum
Tuesday, October 11th GRMS @ Fruit Cove
Thursday, October 13th GRMS @ Pacetti Bay
Tuesday, October 18th GRMS @ Sebastian
Thursday, October 20th GRMS @ Swiss Point
Tuesday, October 25th GRMS vs Murray
Tuesday, November 1st GRMS @ Landrum
Thursday, November 3rd GRMS vs Fruit Cove
Tuesday, November 8th
Play-off Semi-Final #1 vs #4 / #2 vs #3
Thursday, November 10th
CHAMPIONSHIP GAMES
Here are links for Home Volleyball Games Only. We will use school pay tickets for the games. 
                        Tickets available only through school pay.
September 27th https://www.schoolpay.com/pay/for/Gamble-Rogers-Volleyball-VS-Murray-Middl/SAJvkh
September 29th https://www.schoolpay.com/pay/for/Gamble-Rogers-Volleyball-VS-Pacetti-Bay-/SlySsi
October 6th https://www.schoolpay.com/pay/for/Gamble-Rogers-Volleyball-VS-Landrum-Midd/SdjBIjK
October 18th: https://www.schoolpay.com/pay/for/Gamble-Rogers-Volleyball-VS-Sebastian-Mi/ScSJRzR
October 20th: https://www.schoolpay.com/pay/for/Gamble-Rogers-Volleyball-VS-Switzerland-/SedC1pl
November 3rd: https://www.schoolpay.com/pay/for/Gamble-Rogers-Volleyball-VS-Fruit-Cove-M/SNaexu
Links for Away Games Only
Thursday, September 22  GRMS @ Swiss Point –  https://www.schoolpay.com/link/vbsept22
Parent/Guardian,
All students will be eligible for Free Breakfast and Lunch until September 20.
This period will allow for families to complete registrations. Below is a copy of the message sent in recent weeks, which includes a link to the application. 
Many parents have had Free and Reduced Lunch applications mailed to their residence. According to the district office, you should have already received this correspondence. If not, you may use this link to check for eligibility: https://www.stjohns.k12.fl.us/food/free/  This completed application may be turned in at the school office at which point we will send it to the district office. It is important that the form be completed in a timely manner to avoid a gap in your student's eligibility for assistance. 
Sign Up for SchoolMessenger
This system allows schools and District staff to quickly and efficiently communicate both general and emergency messages to parents/guardians using email, text and voice mail.
If you are a SJCSD Parent/Guardian, please see the directions to Manage Your Contact Preferences in SchoolMessenger Info Center.
Vision:
GRMS will be a progressive school in which students are prepared to achieve at their highest level, preparing them for college and career, surrounded by an engaged community that is proud of its educational  accomplishments.
From The Front Office
Drop-Off Items
All items (clothes, shoes, homework, monies, keys, books, etc.) Must Be In A Bag (except band instruments and lunch boxes) labeled with the student's name and grade.
Thank you for your help with this!
Early Check-Out
If you need to take your student out of school early, the latest time that he/she can be picked up is at 1:20PM (12:20PM on Wednesdays). Only parents, guardians, or other individuals identified on the student's contact list, with appropriate identification, will be allowed to check-out the student.
Food Policy
Stingray families — Parents will not be permitted to drop off food from outside sources to their student during the school day. This includes all fast food/restaurant meals. 

Complete the School Access Form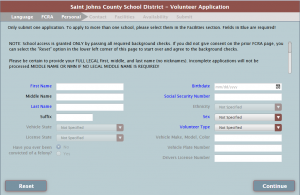 Steps In Obtaining School Access
Complete the School Access Form by clicking the box above, or by going to https://stjohns.keepntrack.com/apply.
Two weeks after submission of the form, contact the school of your choice, to check status.

Like the GRMS PTO on Facebook to stay informed of events.
Forms
Absentee Form


Please use the form above, reference students first and last name, homeroom teacher, and you may include a doctor's note or other documentation.
"Connecting Families to Community Resources" on Oct. 4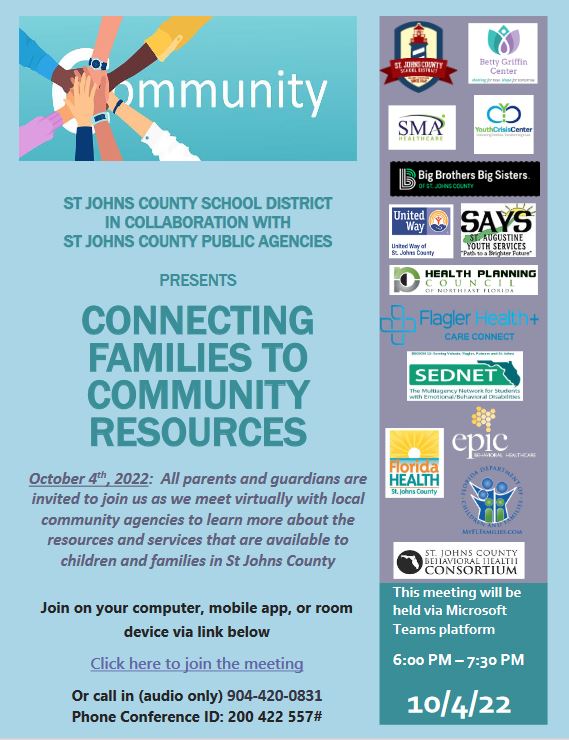 Please join us on October 4, 2022, from 6pm to 7:30pm for a virtual discussion titled "Connecting Families to Community Resources." All parents and guardians are invited to join us as we meet virtually with local community agencies to learn more about the resources and services that are available to children and families in St Johns County.
Secondary STEM Fair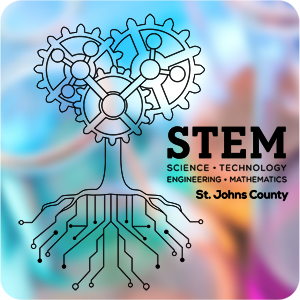 Our school supports STEM! If you are interested in participating in our county Secondary STEM Fair, ask your science teacher about getting started with a project!
To learn more, please visit the Secondary STEM Fair web page.
FortifyFL is a website and app developed at the direction of the Florida Legislature. Any student, educator, parent or member of the public can report school safety concerns directly to law enforcement and school administrators anonymously and easily through the FortifyFL app or getfortifyfl.com.
This is just a reminder that anyone (parent, guardian, friend, neighbor, aunt, uncle) must have school access to attend an event at Gamble Rogers Middle School, have lunch with a student and/or attend an awards assembly. If you have not already done so, please complete the School Access Form. The process for approval may take up to 4 weeks, so please fill out the application sooner than later for any guests that would like to have school access. Once the application is approved, school access will be valid for three years.
2022 - 2023 Valued Partners...Priceless Supporters!
Stingray MAROON Sponsor ($500+)
Find out how YOU can become a partner!
We truly appreciate your support and hope that our Stingray Families recognize your commitment to the school and community and support you and/or your businesses as well! Thank You!!!