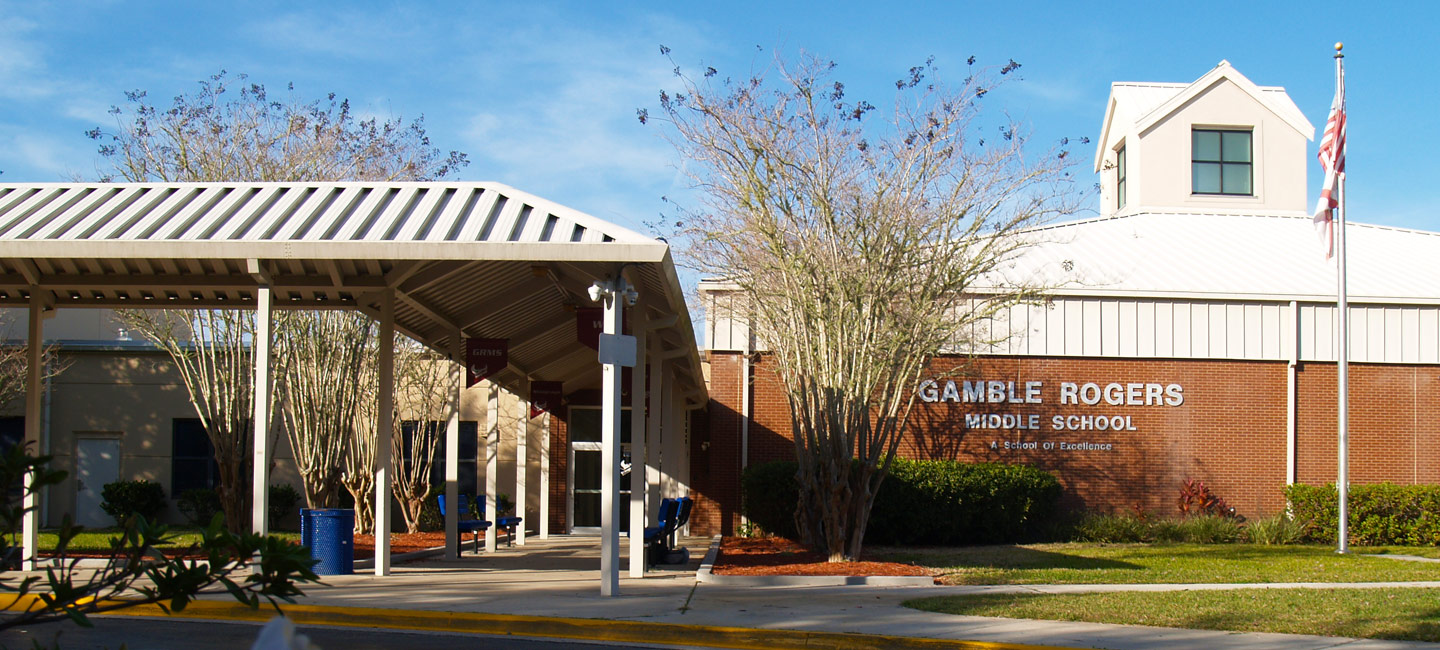 Stingray families, it's Book Fair time!
The GRMS Spring Book Fair is Coming March 27 – 31 in the Media Center. Students will have an assigned time with their ELA teachers. If students have money, they can come shop at other times with teacher permission. We will open during and after the Spring Dance on March 31st so parents can join us if they would like.
We have a special e-wallet for Gamble Rogers students who might need a little help with their purchases. The United Way is contributing and anyone else who would like to help can contribute at Gamble Rogers Student Support E-Wallet.

Parents can volunteer HERE.
Interested in Football


2023 FOOTBALL REGISTRATION OPEN NOW!
Reminder you MUST register before you tryout.
Register Here
Stingray Try-outs
3/20/23 – 3/24/23
3:00pm – 5:00pm
Each day after-school before tryouts we will have study hall for the students under the green pavilion.
Rising 6th Grade Important Parent Information
Important Dates 
March 9th – Third Quarter Ends
March 10th – Teacher Planning Day
March 13th – 17th – Spring Break No School
March 20th – Classes Resume for Students
No later than April 1st – Course Request Sheets with CORE Course Recommendations Distributed
April 7th & 10th – Holiday No School
Tentative Date: August 3rd – 6th Grade Orientation with WEB
District Date is TBD – Schedules go live in HAC    
What's Happening at Gamble Rogers
STINGRAY SPIRIT WEAR
Want to show off your Stingray spirit? Use the link below to grab some GRMS gear! Order Here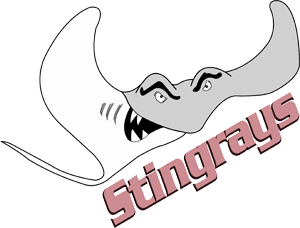 You may now order the yearbook for 2022-2023
Yearbooks are $35 until 4/30 and then the price will increase to $40.

 Order your yearbook online at    https://buytheyearbook.pictavo.com/Catalog/HomepageCategory
 and enter school code 708352 to pre-order your yearbook.                           
  

Interested in Cheer?
Register Here
  You MUST register to try-out.
♦ March 27th thru 29th – Cheer Clinic @ 1:50pm – 5:00pm
♦ March 31st – Try-outs @ 4:00pm
      Please contact cheer coaches at [email protected] if you have any questions.
School Hours
7:10am – 1:50pm
Early Release Wednesday 12:50pm
We ask that you not drop students off at school prior to 7:00AM
Front Office Hours
7:00am – 3:00pm
Rising 7th & 8th Grade Information
Rising 7th and 8th grade students viewed the elective video above and had an opportunity to select and rank their preferred electives for next year during their PE course. The forms are live now, so if you have the time this weekend, take a look at our video with your child and feel free to go ahead and sign up. Students without a PE class will register on Friday during lunches if they haven't registered by that time.
Things to keep in mind:
Every student will have P.E. in his or her schedule unless a parent signs a waiver for the student to be excluded from P.E.

Applying for these courses does NOT guarantee placement. Core classes scheduling and elective teacher recommendation are considered.
The semester courses are automatically added to student schedules and placement is based on availability.
Course Review Process:
Students and parents can request a schedule review for a CORE course placement using the form at the link below.

Course reviews will take place after final grades and state testing scores are released in July.  Decisions to change placement will follow the course progressions and will be communicated over the summer.

Students and parents will be notified by July 1, 2023 if the course review was approved or denied
Honor Roll Is Now Digital!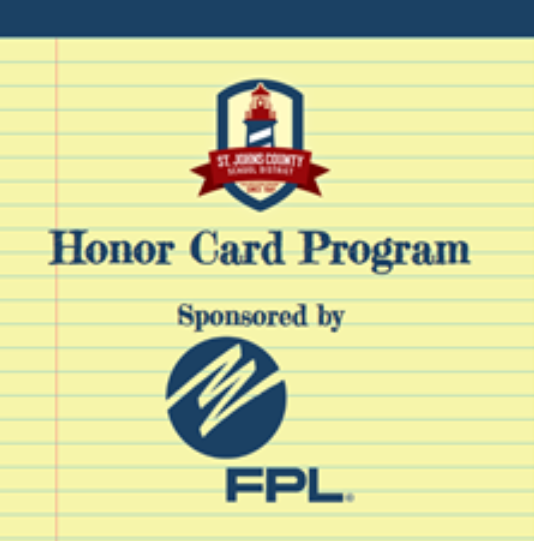 Click here to sign up for your new Honor Card rewards and to see the list of  discounts and freebies.
Parent/Guardian,
Many parents have had Free and Reduced Lunch applications mailed to their residence. According to the district office, you should have already received this correspondence. If not, you may use this link to check for eligibility: https://www.stjohns.k12.fl.us/food/free/  This completed application may be turned in at the school office at which point we will send it to the district office. It is important that the form be completed in a timely manner to avoid a gap in your student's eligibility for assistance. 

Who: All 8th Grade Students
What: Islands of Adventure/Universal Studios Gradventure Trip
When: Friday, May 19, 2023 from 1:00 pm to 2:15 am
Click link below if you need registration support:
[email protected]
Sign Up for SchoolMessenger
This system allows schools and District staff to quickly and efficiently communicate both general and emergency messages to parents/guardians using email, text and voice mail.
If you are a SJCSD Parent/Guardian, please see the directions to Manage Your Contact Preferences in SchoolMessenger Info Center.
Vision:
GRMS will be a progressive school in which students are prepared to achieve at their highest level, preparing them for college and career, surrounded by an engaged community that is proud of its educational  accomplishments.
From The Front Office
Drop-Off Items
All items (clothes, shoes, monies, keys, books, etc.) Must Be In A Bag (except band instruments, homework and lunch boxes) labeled with the student's name and grade.
Thank you for your help with this!
Early Check-Out
If you need to take your student out of school early, the latest time that he/she can be picked up is at 1:20PM (12:20PM on Wednesdays). Only parents, guardians, or other individuals identified on the student's contact list, with appropriate identification, will be allowed to check-out the student.
Food Policy
Stingray families — Parents will not be permitted to drop off food from outside sources to their student during the school day. This includes all fast food/restaurant meals. 

Information Changes
It is imperative that parents call the school to change home phone numbers, cell numbers, work numbers and email addresses as soon as they are changed. In an emergency situation, it is difficult to contact parents when the information provided is not correct. Please contact Ms. Greve with changes.
Complete the School Access Form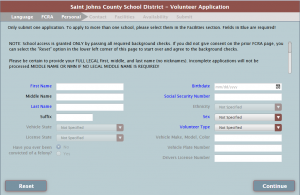 Steps In Obtaining School Access
Complete the School Access Form by clicking the box above, or by going to https://stjohns.keepntrack.com/apply.
Two weeks after submission of the form, contact the school of your choice, to check status.

Like the GRMS PTO on Facebook to stay informed of events.
Forms
Absentee Form


Please use the form above, reference students first and last name, homeroom teacher, and you may include a doctor's note or other documentation.
"Improving Mental Wellness in Children and Families" Online Discussion on April 4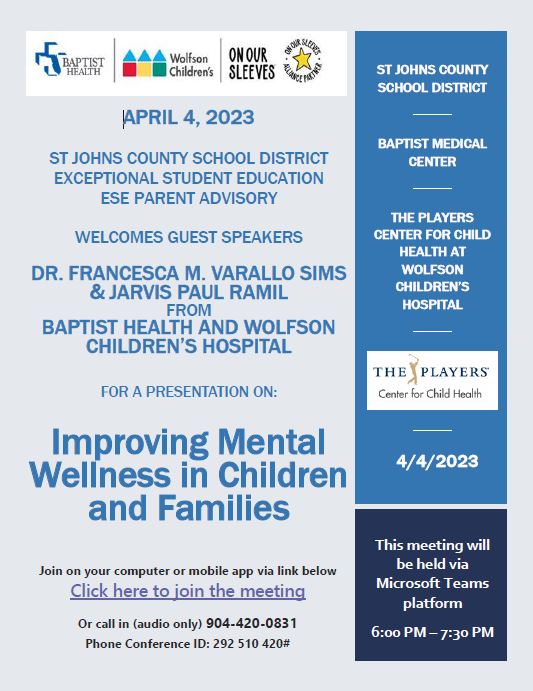 Please join the St. Johns County School District's Exceptional Student Education (ESE) Parent Advisory Committee for a virtual discussion on "Improving Mental Wellness in Children and Families." The discussion will be held virtually in Microsoft Teams and will be presented by Dr. Francesca M. Varallo Sims and Jarvis Paul Ramil from Baptist Health And Wolfson Children's Hospital.
SJCSD Social Studies Adoption

The St. Johns County School District has begun the review process for the Social Studies Instructional Materials Adoption. Once available for review, the digital resources will be posted here (https://www.stjohns.k12.fl.us/media/textbooks/adoption/) and available for review.  The core resources that have been submitted for evaluation were selected from the state adoption consideration lists when available. Additional resources for advanced programs may be reviewed from materials listed as appropriate for the program indicated.
Some print materials may be available for review. If you would like access to the available printed materials or require assistance reviewing the online resources, please call the Instructional Resources and Media Services office at 904.547.3947. Materials are available for review from 8:30 AM – 4:00 PM when district offices are open.
We encourage parent and community participation in our adoption process. If you would like to serve on a school committee and formally review the resources as a part of the school review team, please contact any school or our office at 904.547.3947 by April 21, 2023.  Committee membership is limited. School administrators will select the appropriate number of reviewers from the list of interested participants.
FortifyFL is a website and app developed at the direction of the Florida Legislature. Any student, educator, parent or member of the public can report school safety concerns directly to law enforcement and school administrators anonymously and easily through the FortifyFL app or getfortifyfl.com.
This is just a reminder that anyone (parent, guardian, friend, neighbor, aunt, uncle) must have school access to attend an event at Gamble Rogers Middle School, have lunch with a student and/or attend an awards assembly. If you have not already done so, please complete the School Access Form. The process for approval may take up to 4 weeks, so please fill out the application sooner than later for any guests that would like to have school access. Once the application is approved, school access will be valid for three years.
2022 - 2023 Valued Partners...Priceless Supporters!
Stingray MAROON Sponsor ($500+)
Stingray SILVER Sponsor ($250+)
Find out how YOU can become a partner!
We truly appreciate your support and hope that our Stingray Families recognize your commitment to the school and community and support you and/or your businesses as well! Thank You!!!