Final Report Card Update:
Middle school report cards will be finalized once all final exams have been scored. We expect those to be available sometime in mid-June and can be viewed on HAC. If you would like a printed copy of your students report card, please call and leave a message for Mrs. Delaney at 904-547-8696. Gamble Rogers will send out a phone message to parents once the report cards are available.

********************* 
2016-2017 School Year
Click the link above for 2016-2017 important information…You will find block schedule, dress code, start/end times, etc.

*********************
AVID Binder Bundle!
If you would like to purchase an AVID Binder Bundle, they will be available for $25.
Binders will be available for pick up during Summer Textbook & Schedule Pick-up.
♦ Save Time & Money
♦ Teacher Approved and Custom Packed
♦ Avoid Shopping Hassles. No Crowds. No Traffic. No Guesswork.
*********************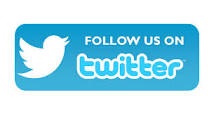 https://twitter.com/GambleRogersMS
*********************
Information Changes
It is imperative that parents call the school to change home phone numbers, cell numbers, work numbers and email addresses as soon as they are changed. In an emergency situation, it is difficult to contact parents when the information provided is not correct. Please contact Martha Fulford at Martha.fulford@stjohns.k12.fl.us with changes.
We are in need of a secretary, fundraising coordinator, volunteer coordinator, spirit wear coordinator and business partnership liaison.
Please contact PTO President Annmarie Darcy for more information.

*********************

 Gamble Rogers Middle School Presents:
The Wizard of Oz!
To view click here
*********************
All-County Middle School Art Show

Zoe Cataleta 1st place mixed media

Karenna Rodriguez  2nd place drawing
*********************
2016 National Junior Society (NJHS) Inductees
**********************
GRMS 6th grader Ibrahim Zori, won 1st place in the Tropicana Speech Contest!

Well Done…Ibrahim!
********************

Free Use of High School Outdoor Facilities This Summer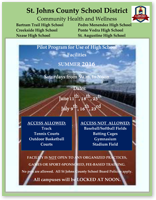 For six Saturdays in June and July, outdoor facilities at each of our high schools will be open for public use to promote community health and wellness. Some restrictions apply.
Please view the flyer for details.
********************
School Access Form
You MUST complete the form above if you plan to enter the school building before and/or after-school for any conference, lunch with a student, or meetings, etc.
******************** 
7th Grade Immunization Reminder
All rising seventh grade students are required to have a tetnus-diptheria-pertussis (Tdap) booster PRIOR to entering 7th grade. If your student needs this immunization, please obtain it and bring the updated DH680 to Gamble Rogers at your earliest convenience. The Health Department or your physician will update your DH680 form. You will need to obtain a new original form complete with all prior shots documented. The Health Department is located at 200 San Sebastian View, St. Augustine.
*********************  

Early Checkout Procedure…
As indicated in the Student Handbook 2016-2017:

As a safety precaution, students will only be released to the parent/guardian or the Emergency Contact listed on the Emergency Card. A current driver's license or state issued ID must be presented in the front office to check a student out early. The following procedure will be strictly enforced: NO student may be signed out after 1:30 p.m. every day except Wednesday. The latest early checkout on Wednesday is 12:30 p.m. Parents must arrive in the front office no later than 1:30 p.m. (or 12:30 p.m. on Wednesday) in order to sign their child out early.
********************
GRMS Spirit Wear
( Spirit Wear questions should be sent to Annmarie Darcy at PTO.GRMS@AOL.COM )
Zip Hoodies w/ New Stingray Logo – $20


Dri-weave short sleeve w/ New Logo & GRMS on sleeve – $15


New Logo T-shirts – $10

******************* 
Empowering Excellence in Educators

Learn about St. Johns County School District's new instructional evaluation system that will advance student growth and academic achievement.

********************
Summer Happenings…
Marine Science
Art Camp
Horse Camp
Sewing Camp
Kid's Cooking Camp
Brooks Pediatric Adaptive Recreation
The Pediatric Adaptive Recreation Program provides a supportive environment for youth with physical and/or developmental disabilities to engage in recreation activities. Each class has a specific goal for the participants as well as working toward personal goals. Classes are developed for all types of disabilities unless otherwise stated.
All programs are FREE of charge to families of qualifying youth. Registration is required and a welcome meeting will be provided by our program coordinator.
*Aquatic Challenge
This program focuses on strength, endurance, and range of motion through exercises and games.  Group activities create an environment for structured social opportunities as well.
Ages: 9-15
Wednesdays 4:00-5:00
July 6-August 3
Location:  University of St. Augustine Wellness Center – St. Augustine, FL
*Splash and Dash
This 2 part class offers land activities for youth to participate in- including fitness, arts, and games.  Participants then move into the pool to participate in activities in an aquatic setting. Swim skills are not necessary but this is NOT a learn to swim program.

Ages 8-14 
Wednesdays 2:15- 4:00
May 25- June 29
Location:  University of St. Augustine Wellness Center, St. Augustine, FL
********************
Helpful Websites…

Student Resources
http://www-grms.stjohns.k12.fl.us/links/
St. John's Middle School Athletic Association
SJMSAA
The Paperless Classroom
Showbie

Parents' Guide to Student Success
www.pta.org/4446.htm.
School Book Reading
Scholastic
Local School News
News
Pedro Menendez High
*********************
********************
The Stingray Chronicle is a quarterly newsletter that highlights the upcoming news, events, and important reminders at Gamble Rogers. By signing up, you will receive the Chronicle in your email inbox.
[xyz-ihs snippet="NewsletterSubscriptionForm"

*******************

HAC
Home Access Center provides online access for parents to view attendance, grades, buses, report card, etc. Please read the instructions first. Now you are ready to log in.
If you have any questions, please call 904-547-8696 for more information.
********************
Afterschool Clubs
Photography Club
Cross/Country Running
Drama (See Mrs. Stone)
Robotics
Best Buddies
Multicultural Club
Stingray FCA
Student Government
Guitar Club
Running Club
*********************
YMCA After School Program
If you have questions please call Ashley Escobar at 904-629-5010.
*******************

SJCSD Exceptional Student Education (ESE)
Please visit the website for updated information
********************
Information on Common Core
Common Core at a Glance
Common Core FAQ's
********************
Are you living in a shelter, motel, vehicle, or campground; on the street; in abandoned buildings; or living with friends or relatives due to an economic hardship, are you a teenager and living independently or with someone other than a parent or legal guardian; then you may be eligible to receive services provided under the McKinney-Vento Act. Contact Computer Operator, Martha Fulford or your Homeless Liaison – Mr. Chris Stone @ 904-547-7589 for more details. You may also visit http://www.stjohns.k12.fl.us/depts/student/homeless/
********************
We have a live weather station here at GRMS!
Click Here
********************

Safe School Letter

*********************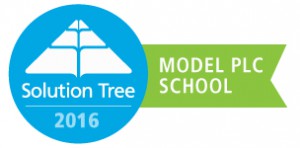 Gamble Rogers Middle School RECOGNIZED AS A MODEL
PROFESSIONAL LEARNING COMMUNITY AT WORK™
One of About 200 Schools and Districts in the US and Canadato Receive This Honor
For more information, please contact:
Name: Michelle Davis
School: Gamble Rogers Middle School
Address: 6250 US 1 South, St. Augustine, FL 32086
Phone: 904-547-8700
Email: michelle.davis@stjohns.k12.fl.us
**********************
************************