Gamble Rogers Middle School Advisory Council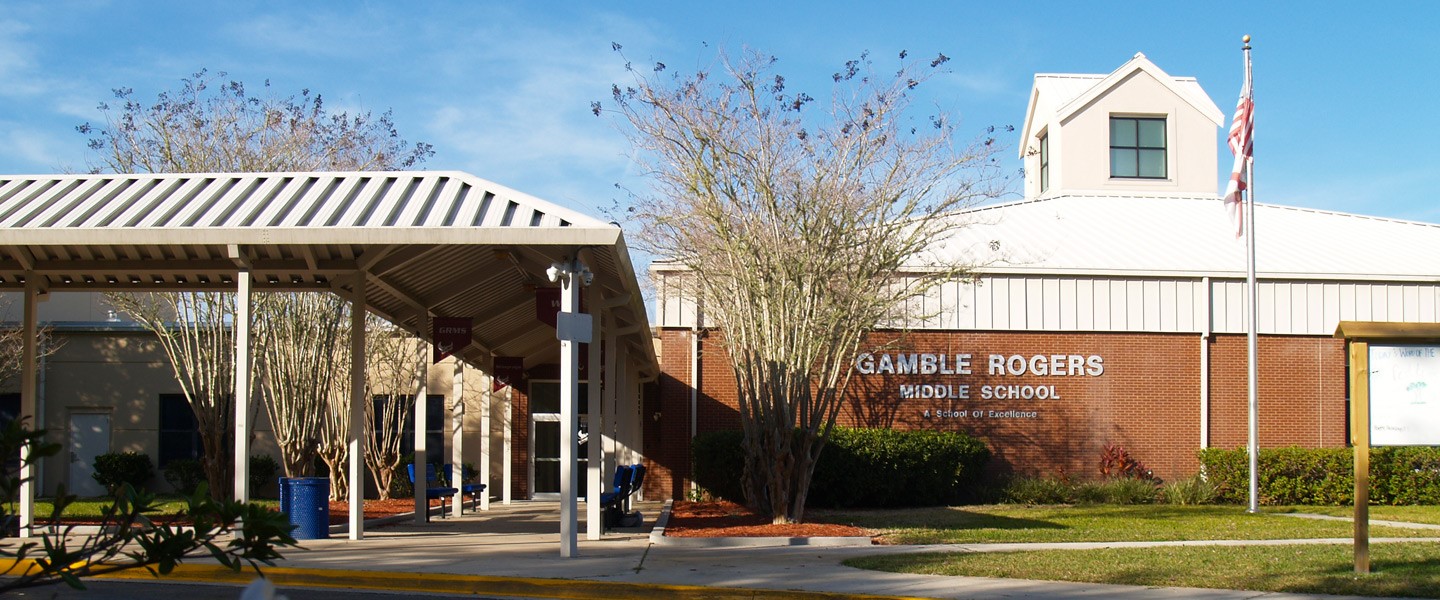 The Gamble Rogers Middle School Advisory Council recognizes that the education of students is a shared responsibility involving the school, students, their families, and members of this community. Parents and guardians have the right, as well as the responsibility, to participate in the education of their children, and can contribute to their children's development in a wide variety of ways. Other members of the community also offer a wealth of experience and expertise that may be of benefit to students. Members of all of these groups should, therefore, have the opportunity to be heard in educational matters. Gamble Rogers is committed to encouraging partnerships that will enhance the education of all students.
What is the School Advisory Council?
A SAC team by Florida law is comprised of the Principal, teachers, support staff, business/community members and parents. All members are elected by the group before the first meeting. SAC meets nine times a year as prescribed by our by laws. Members are encouraged to bring forth issues and offer solutions to help the school. SAC also makes decisions on teacher's requests of use of funds. SAC can offer funds to teachers who want to attend training or workshops.
What is the role of SAC?
The SAC assists in the preparation, evaluation, and implementation of the School Improvement Plan. SAC assists the principal with the annual school budget. The root of SAC is data driven decision making. SAC reviews FSA data and other assessment data, give feedback on the data, and monitors progress of the students.
What is the School Improvement Plan?
Every school in the state of Florida is required to develop a School Improvement Plan. Each year our staff and SAC review all relevant data, which includes but is not limited to: state assessment data, progress monitoring, locally developed test scores, needs assessments, attendance records, discipline records, and other feedback as appropriate. From this data, we update our comprehensive plan with strategies for improvement.
All SAC meetings are always open to the public.
Welcome to GRMS SAC Committee! Parents and members of our are community encouraged to join our School Advisory Council. It's a great way to hear about school happenings and build relationships with our parent and community partners.

For more information about GRMS School Advisory Council, please contact the SAC Chairperson, Tracy Melgard at [email protected] or 904-547-0816.
LEADERSHIP
Greg Bergamasco
Tracy Melgard
Parents
Hallie Bamford
Heather Barnes
Ben Boles
Katie Casella
Susie Corpuz
Theresa Guernon
Jill Harris
Jenny Holbrook
Lina Feaster
Sandra Lepore
Kimberly McManus
Will Russell
Megan Wall
Cat Wilson
Business/Community Representative
Theresa Lennon
Alexandra Phillips
Lisa Urban

School Board/District Representative
Bill Mignon
Denise Sumerix
Staff
Haley Bach
Ashley Demaio
Rafael Fuentes
Kevin Gamble
Lou Greco
Edith Leitner
Erin McDonald
Elizabeth Heffner
Elizabeth Purtill
Ashley Zapata
Sonya Garner
Dawn Wynn
19-20 SAC Meetings
All meetings will be in the the Media Center from 3:00pm – 4:00pm unless otherwise stated.
August 27 – Agenda & Minutes
September 30 – Agenda & Minutes (September meeting is on a Monday!!!)
October 29 – Agenda & Minutes
December 10 – Agenda & Minutes (This meeting will cover November and December)
January 28 – Agenda & Minutes (This meeting will be 3:30 at the Hastings Branch Public Library)
February 25 Agenda & Minutes
March 31
April 28 (This meeting will cover April and May)